Media
Reviews
John Ingham, for Sounds wrote "if we are to have God-rock, then let it be Bryn Haworth; he thinks of the music foremost … you owe yourself a listen".
'Ready Or Not' REVIEW by Stewart Henderson , Poet, lyrist and broadcaster
To consider the remarkable 50-year career of guitarist, songwriter and lauded session musician, Bryn Haworth, is to walk through rock music's Hall of Fame. For starters, Bryn's early days were spent as a key member of the late 1960's London-based Atlantic Records house band, The Fleur de Lys, working with such soul greats as Isaac Hayes, and Dave Porter who wrote many of the Sam & Dave hits for Stax. And then there was the famous night in 1968 at the music industry premier hangout, The Speakeasy, when Jimi Hendrix, an enthusiastic admirer of Bryn's guitar playing joined Bryn and The Fleurs' for an ad hoc performance as they played Purple Haze and Red House together. Bryn eventually decamped to the U.S.A. to join a new band, Wolfgang, managed by legendary promoter, Bill Graham, appearing on bills with Led Zeppelin, Jefferson Airplane and The Grateful Dead. Come 1973 Bryn was back in the UK, signed to Island Records, recording the first of his two albums for them, 'Let The Days Go By'. A move to A&M followed later, with another brace of albums, including the Nashville recorded, 'Grand Arrival'. During this period, touring with the likes of Fairport Convention and Traffic, and appearing on John Peel's Radio 1 Sessions and BBC 2's showcase, The Old Grey Whistle Test, Bryn began to establish his reputation as a go-to session player with his revered slide guitar deemed an essential for many artists. As Richard Williams, the person who signed Bryn to Island Records stated, he is 'a musician's musician'. The late Gerry Rafferty, who died in 2011, recognised that. His and Bryn's relationship spanned several of Gerry's albums, even up to the present day, with Gerry's daughter, Martha calling on Bryn's musical friendship with her father, and his expertise in piecing together some previously unheard material, with Bryn contributing to five tracks on the critically acclaimed September 2021 release, 'Rest In Blue'…
…And so to Bryn's new album Ready Or Not, which distils and amplifies just some of the remarkable pedigree, and pilgrimage, outlined before. The eleven tracks illuminate the concerns and reflections on 'the midnight cry', as in the masterful, 'Great Story', opening title track. Over the past months, Bryn has been listening in the uneasy silence to the babel tumult, to produce an album of wise warnings and enfolding solace. Blues, country, gospel and rock and roll respectively take their turns on the floor with the latter of those musical styles to the fore in Boom Baby Boom, the witty lyrics enhanced by an impeccable arrangement. We Never Thought This Could Happen, is a most moving country contemplation on the events we've collectively experienced of late. Then, track four brings a subtle and effortless gear change with the smooth and sassy, Walk Away, a driving home in the early hours instrumental. The longing for belonging permeates All I Need Is A Home with Bryn's wistful vocal emphasizing the lyric's universal pining for settlement and security. Environmental concerns drive Enough Is Enough, a stewardship song arising out of the My Tree Matters campaign, which protested against the proposed felling of historic woodland …'listen to the birds crying 'mercy please'… …This artfully segues into the timely Let's Work Together. Originally penned by Wilbert Harrison it became a 1970 major chart hit for Canned Heat. Bryn goes to the blues-to-the-very-boots of the song to fashion a chugging, corking 12-bar. In recent years Bryn has released three albums for prison inmates arising out of his ongoing faith-commitment to those in prison. The country ballad, I Had A Dream, isinspired by Jesus's words in the New Testament, Matthew: Ch. 7, 'build on the Rock and not on sand'. With all due respect, Johnny Cash, a fellow prison visitor, could not have empathised better.
The final three tracks, continue in a similar stirring spirit with Call On Me, a Latin rhythm co-write with Eric Clapton keyboard player, Chris Stainton. This leads into the transcendent toe-tapper that is Holy Spirit Of God, suitably preparing us for the final, sublime instrumental, Doxology, a beatific guitar riff on a C16 melody which can be traced back to the Genevan Psalter hymnal.
For a far-sighted summing up of this outstanding and commanding album, I'll leave that to the person who knows Bryn best, soul-mate Sally Haworth. When her husband signed that two album deal with Island Records back in the 1970's, Bryn said he was happy to record just one album. As Sally discerningly and paradoxically observed, "Ready Or Not…is that album!"…. And so it has gloriously and authoritatively come to pass.
MUSICIANS: Drums:       Paul Beavis, Terl Bryant,  Henry Spinetti Bass:       Dave Bronze, Matt Weeks
Keyboards  Chris Stainton, Mark Edwards . Percussion    Karlos Edwards
Guitars  Bryn Haworth, Neil Costello Mandolin and Vocals Bryn Haworth BVs     Mal Pope, Bryn Haworth
preview at Hear Now!
Archive Reviews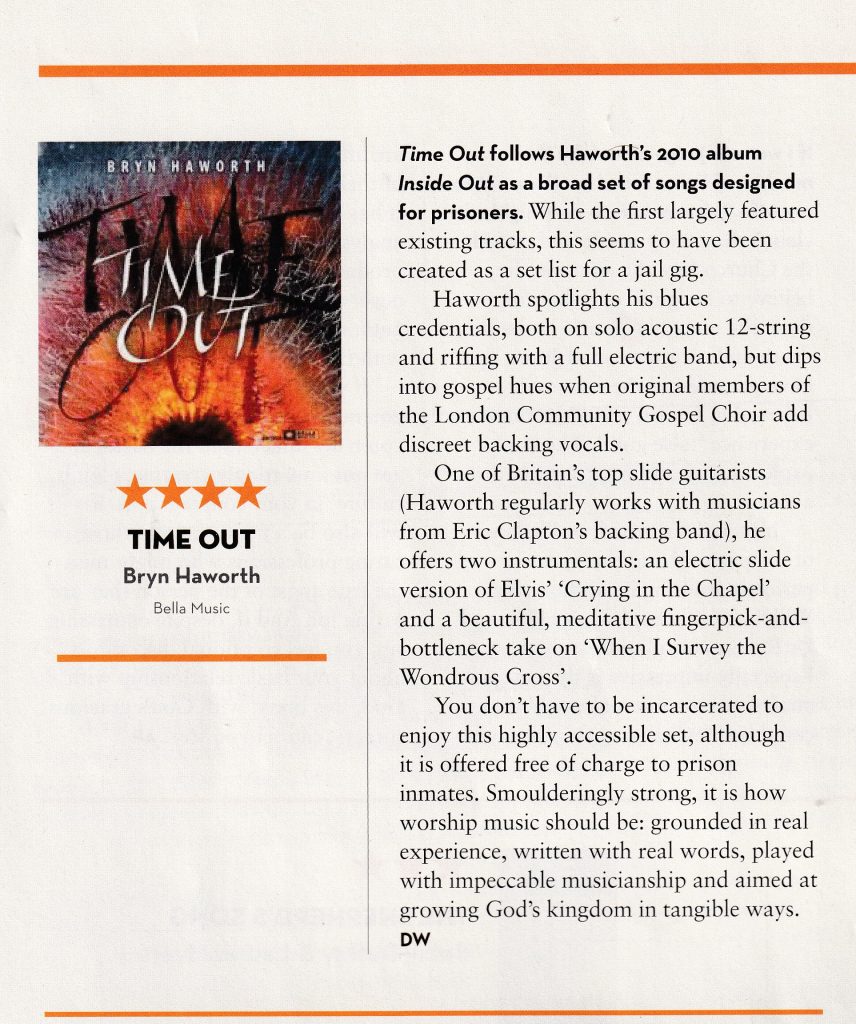 KEEP THE FAITH
Cross Rhythms April 2006 – review by Anthony Longville – 9/10
One of the UK's musical treasures is Bryn Haworth. This CD is all about the blues with a touch of rock and toll. Trademark Bryn Haworth. A return to recording and to these ears a real return to form. On the opening title track I defy your feet not to tap as Bryn motors along, singing apparently about his love for listening to the radio in the 50's but with a subliminal message about listening to God. "I'm in Love With You" is a great piece of blues music, showing that Bryn is quite happy to sing songs about his wife as well as the "spiritual" songs. Great blues guitar work. "Wash Me Clean", a Maggi Dawn song, moves gently along before providing a beautiful showcase for Bryn's excellence on the slide guitar—so much his forte. "Psalm 40" get the blues treatment. And there's beautiful worship too on "Wings Of The Wind". At first I think "Satisfied" is another love song—well it is—but it's about Jesus' love for the church. Each track is a gem in its own way. Bryn is one of those people often described as a musician's musician. The playing, backed by his usual band, is impeccable. Haworth proves again that the blues doesn't have to be sad. Play it loud!
NetRhythms February 2006 – review by David Kidman
Good to hear that Bryn's still going strong, for here he's produced a satisfying new CD whose very title is both a mission statement and a credo for all those of us of like mind. It's a classy, tasty and yet fairly laid-back set consisting almost exclusively of new material by Bryn, mixing gently driving rockers with more reflective statements of Bryn's amiable and largely positive philosophy of life. Positive, yet devoid of the preaching or self-righteousness that might afflict any songwriter who maintains such a faith.
Bryn's voice, guitar and mandolin are backed by a stalwart crew of highly dependable sessioners including Henry Spinetti, Steve Gregory, Dave Bronze and Martin Neil. There's a pleasant Latin-inflected instrumental track (Salema) midway through the album. My favourite tracks? Probably the soft-ramblin', country-tinged Wash Me Clean (a Maggi Dawn composition) and Satisfied, the soulful R&B-style workout I'm In Love With You (great horn arrangement), and Psalm 40 (a neat slice of anthemic rock-gospel).
But in truth, it's one of those unpretentious, well-produced and fairly timeless-sounding CDs which appeals at once, stays right with you and never offends or jars – yet there's not much else I can (or need) say about it except that it just makes you feel good all the time it's in the player. Sometimes a short review can say as much as a longer one or more in-depth analysis, and I reckon this is one of those times …
THE GAP
This classic masterpiece of gospel rhythm and blues, is now digitally remastered and available on CD. The album was jointly produced by Bryn and Dave Markee in 1980, and also featured Henry Spinetti on drums, (Dave & Henry formed the rhythm section for Eric Clapton at that time). Music Week Magazine's reviewer wrote..'this new album, with touches of folk and blues amid the tuneful rock – really deserves consideration. Lyrics carry a strong Christian message, but there's nothing Sally Army about the music'. Bryn deserves even wider recognition as probably the finest bottleneck guitarist this country has ever produced. Hopefully this superb album will give it to him.
Cross Rhythms June 1995 – review by Tony Cummings – 10/10
SLIDE DON'T FRET
Renewal Magazine March 1996
Slide Don't Fret by Bryn Haworth is the best Christian contemporary CD I've heard in a long while. If you hadn't guessed, slide guitar is the order of the day, and Bryn's playing is second-to-none. In fact all the musicians are brilliant. The simplicity and relaxed atmosphere of the album is testimony to the skills of all involved in the performance and production. They make it sound so easy.
New Christian Herald February 1996
What a delight superbly played blues and slide guitar is. And the delight is multiplied when the music comes from the excellent Bryn Haworth, wrapped in songs of strength and encouragement. The Christian music scene rarely appreciates the craftsmanship of this man's playing, and to these ears his expressiveness speaks as eloquently of his love for the Creator as his lyrics. Slide Don't Fret mixes tempo and style, from the mean and moody "Judgement Blues" to the dance-friendly "Cajun Song", but it's really a treat from start to finish.
LET THE DAYS GO BY